ANDIAN CULTURES
Culturas Andinas
Pillow Covers, with Andean Designs

Click on pictures for enlarged detail of the knitting on the covers
Item #W1
Andean Woman & Llama
Item #W2
Boy playing Quena flute, with Llama carrying his pack
| | |
| --- | --- |
| | |
Item #W4
Man and Woman Dancing
Item #W5
Llama with Man sounding horn
Item #W6
Llama and the Sun Inti
Click on pictures for enlarged detail of the knitting on the cushion Covers
Hand Embroidered with yarn, each case is unique, they come in an assortment of colors. These are 16 inches by 16 inches and weigh 4.5 oz unstuffed. The cream colored, coarse weave, wool case has a zipper in the back.
Price is $18 for each case. Shipping for a pair of covers is $3.50 within the United States, $7 to other countries.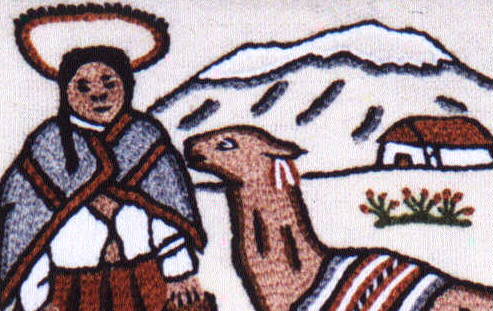 ---

Return to the Main Crafts Page

Or use our Credit Card Order Form through Pay Pal


Return to the "Cultures of the Andes" Home Page
Last updated Mar 15, 2004; All Rights Reserved.
gifts great gifts pillow case pillow cover pillow cases pillow coverings knitting